Ruby Riverfront Retreat
(Private Property Along the Ruby River)
Enjoy fishing? (You've come to the right place!)
Hunting? (Come on over!)
Or perhaps you prefer to just relax and leisurely enjoy accommodations in a landmark and historical home — perhaps sitting on the bank of the Ruby River whenever you feel like it. Kick back and soak up the renowned Montana sky!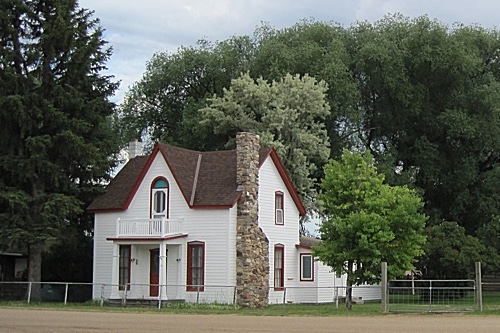 Ruby Riverfront Retreat is in southwestern Montana near (of course) the Ruby Mountain Range. The retreat is private property along the famous Ruby River.
Groups are welcome at this historical site — business retreat, unforgettable wedding, open air family reunion, friendly fishing contest, restful bicycle tour stopover, …
You'll have views of four majestic mountain ranges, including the Ruby Mountains and the Tobacco Root Mountains — the 2 ranges that make the Ruby Valley. The famous towns of Virginia City and Nevada City are just minutes south of the Ruby Riverfront Retreat.
The retreat home, where you will live during your stay, is a two-story, traditional Western home. You'll find a large kitchen, pleasant living room and dining areas, and restful bedrooms. The essence of history permeates the entire house.
Got extra people in your party?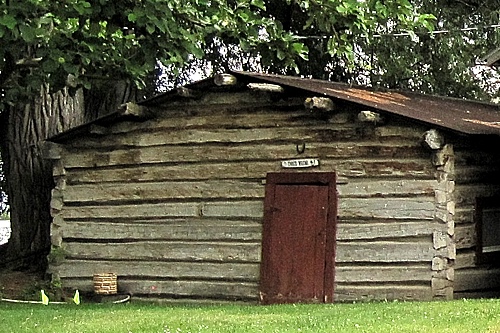 Relax and rest in the historical log cabin with sleeping and bath facilities. Also a coffee pot and small refrigerator.
A perk:
You get to use the trails of Ruby Habitat Foundation — to walk or ride bicycles.
All guests at the Ruby Riverfront Retreat are welcome there. No charge.
There are lots of trails … lots of wildlife. The foundation is 2 miles away from the riverfront retreat property. Drive there, park, and go hiking or biking.
The Ruby River also flows through the foundation property.
Fishing
Fish the legendary waters of Ruby River.
Ruby Riverfront Retreat is private property along the Ruby River. The trout are mostly rainbows and browns, some cutthroats.
Put your waders on and go up or down the river as far as you want to go.
Heart-jumping thrills are waiting for you.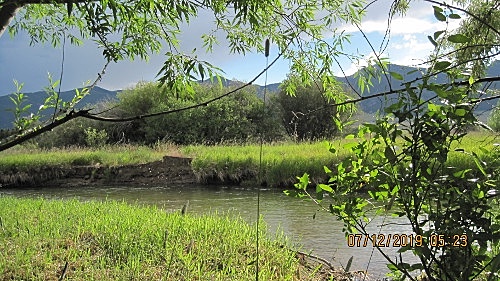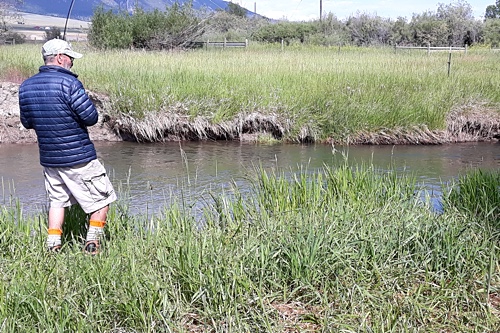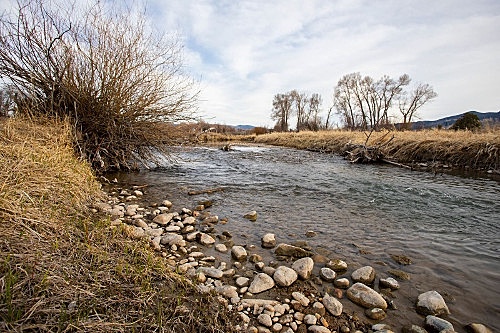 Family members who prefer not to fish, can relax on the bank of the Ruby River. Let them experience non-interruptive reading, writing, painting, being mesmerized by the flow of the river, or relaxing on a blanket and watching the sky. Or use the trails at the Ruby Habitat Foundation.
Hunting
Hunting in Montana is an experience you will remember the rest of your life — elk, deer, moose, bear, mountain goat, antelope, … .
Historical Notes
Lewis and Clarke traveled through this area. A number of landmarks were named by them.
Historical Virginia City is 9-10 miles south of Ruby Riverfront Retreat. (Tap here for map and directions.)
The original owners acquired 288 acres in 1863. The current Ruby Riverfront Retreat property retains original rights.
The house has been added on and the older sections restored. The place is imbued with history — its essence is in the very air you breath.